Space Shuttle Launch Further Delayed
By Swatilekha Paul, Gaea News Network
Friday, November 5, 2010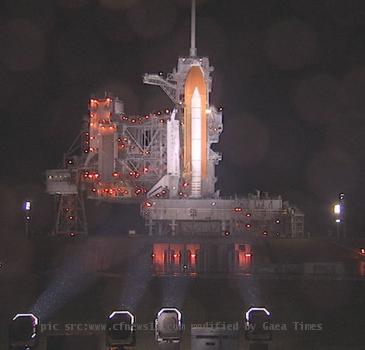 more images
CAPE CANAVERAL (GaeaTimes.com)- The final launch of the space shuttle Discovery, who is gearing up to provide essentials to the International Space Station suffered another major setback on Thursday after unfavorable weather conditions further delayed its launch. This is the fourth time within a week that the much-awaited launch of Discovery had to be delayed although NASA officials have revealed that the date when the space shuttle would take off for the International Space Station has now been re-scheduled to Friday.
As predicted by weather officials, on early Thursday morning, heavy rains lashed regions across the Kennedy Space Center in Florida which left the NASA officials with no other option but to cancel the space shuttle scheduled take off once again. Over the weeks, the launch of Discovery has been terminated on multiple occasions after a number of technical glitches surfaced which had to be rectified without any delay. According to a spokesperson of the Kennedy Space Center, owing to the bad weather the launch of the space shuttle had to be postponed to Friday with weather officials predicting improvement in the weather conditions. Although the strong winds that are likely to prevail on Friday continue to remain as a cause of concern, there are 60 per cent chances that the weather conditions are going to be acceptable for Discovery's launch.
The launch of the space shuttle was initially scheduled for November 1 but it had to be delayed due to gas leaks from Discovery. If the unfavorable weather conditions continue to persist resulting in delays, NASA has the last chance till Tuesday. In case if the launch dies not take place by Tuesday, NASA officials would have to wait till next month due to the angles of the sun.